You might think that it would be hard to "Go Green" with your janitorial services and supplies but you would be pleasantly surprised to find out that many companies now offer green cleaning chemicals and supplies and have made the transition easier than ever. With a full range of products available it seems there are chemicals for every green cleaning need you may have. Some of these chemicals work even better than their non green cleaning counterparts. Understanding what you are trying to clean and learning the best possible green cleaning chemical will help you when you are trying to provide green cleaning.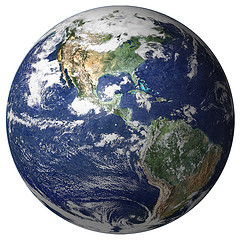 Household green cleaning products are offered in smaller quantity containers, while commercial green cleaning supplies are usually purchased in large sizes and bulk quantities for heavier use. Recycled paper supplies, green restaurant supplies, non-toxic cleaners, and microfiber mops & mop systems are just the beginning. Green paper products for bathrooms include Scott 100% recycle toilet paper and paper towels, Elements organic bowl cleaner, green hand soaps, and natural disinfectant cleaners.
Green Cleaning Products
Green clean products work just as well as the old fashioned standard chemical products, but have less impact on the environment and contain safer ingredients.
For floor areas and carpets, it is easy to be a green cleaning consumer. Start with green carpet pre-spray and cleaner, or natural products designed for hard surface floor care. Some favorite products are Green Option floor stripper, wax remover, gloss restorers and environmentally safe floor finish and protectant products. Use products like Elements non-ammoniated glass cleaner and Clorox Green Works natural glass & surface cleaner with its ready to use trigger sprayer for glass and other smooth surfaces.
For green home cleaning products application try using Simple Green safety towels or soft microfiber cloths. Foaming hand cleaner gets even the grimiest hands safely clean without using toxic chemicals to do the job. Green laundry detergent, environmentally neutral degreasers and recycled paper products are easily incorporated into everyday living.
Green Cleaning Products for Home & Office
Whether at home or in a business setting, the use of green cleaning products or supplies is beneficial to everyone. Fewer toxins are used and released into the environment, cleaning jobs are safer for users, and there are green products available to use in every setting or room in a building. Elements has assembled all surface kits that are filled with green supplies. Just order the kit and receive their assortment of environmentally smart products for all purposes.
Order your green cleaning supplies and green cleaning products from an online wholesaler to find the broadest selection of products at low everyday discount prices on individual products or bulk orders. Delivery is fast and direct to your office, business or home door. Your local retailer may not have the variety and stock that is available from the big online wholesaler of janitorial and cleaning supplies. It is much easier to shop online and more convenient to have bulky or heavy packages delivered to your location.
The United State Green Building Counsel created a LEED designation to help guide the green initiative. Check it out here!